The ultimate 2022 guide for your downtown Birmingham holiday plans!
November 10, 2022 · 20th Street, Entertainment, Holidays, Linn Park, Live, Visit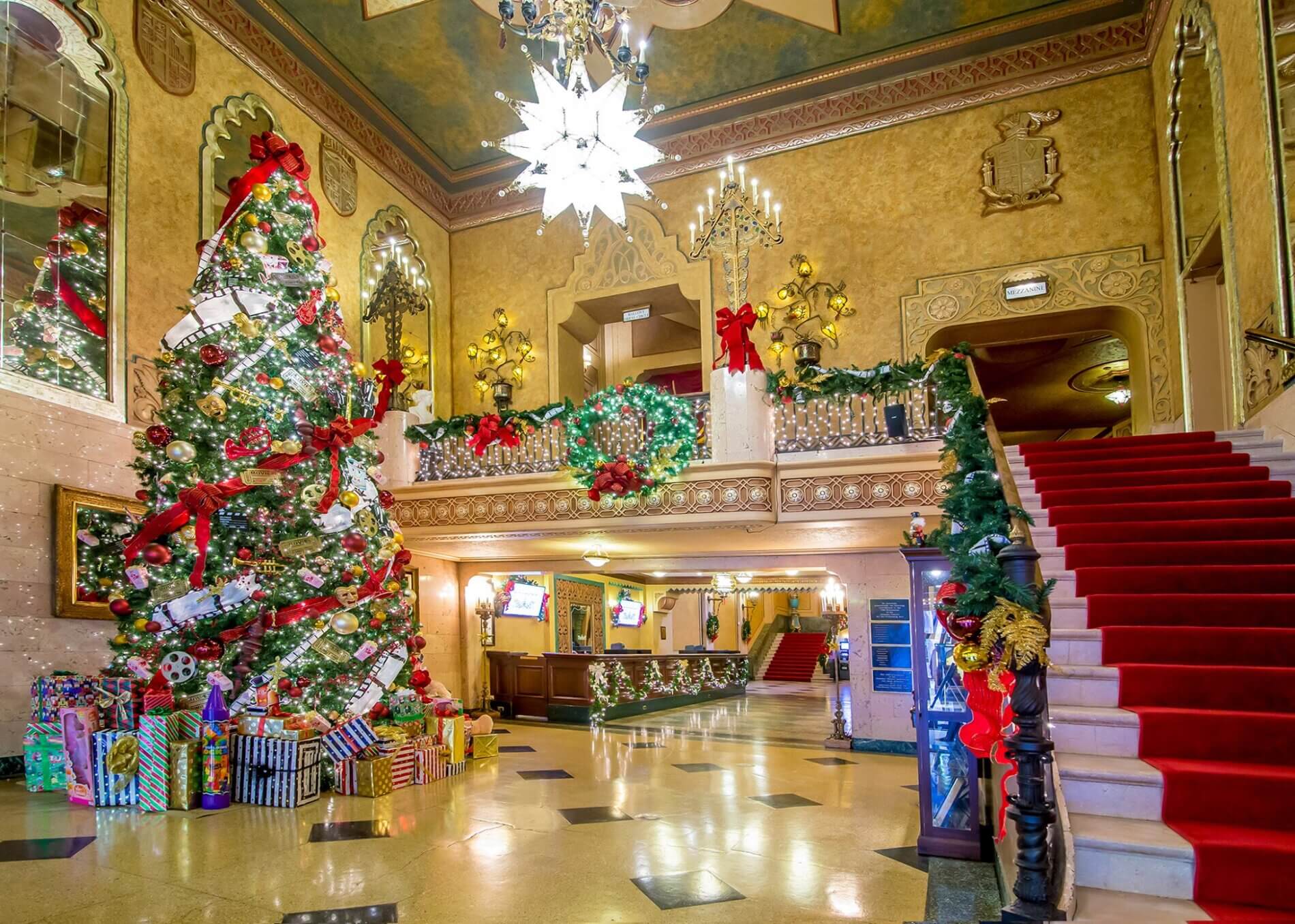 Downtown Birmingham has more — ways to celebrate the holidays! The Magic City is the heart of the community and offers many fun, unique, and family-friendly activities for all to enjoy. From the Alabama Theatre's Holiday Film Series to The Nutcracker – make your plans to experience the Birmingham Holiday Magic downtown! We created an interactive calendar of all the holiday events happening in downtown Birmingham. Choosing the Magic City to celebrate Christmas time has never been easier. Can't find your event? Email natalia@revbirmingham.org to get featured!
Miracle on 24th Queens Park
Queen's Park transforms into Miracle on 24th Street, a magical, over-the-top holiday extravaganza. With a special menu of 12 cocktails, 2 shots, nonalcoholic drinks, large format cocktails in disco balls, and nostalgic snacks, plus a rockin' holiday soundtrack and more tinsel than you can shake a stick at, Miracle on 24th Street is Birmingham's premier holiday pop up bar.
When: November – December 2022
Where: 112 24th St N #102, Birmingham, AL 35203
Website: https://www.queensparkbham.com/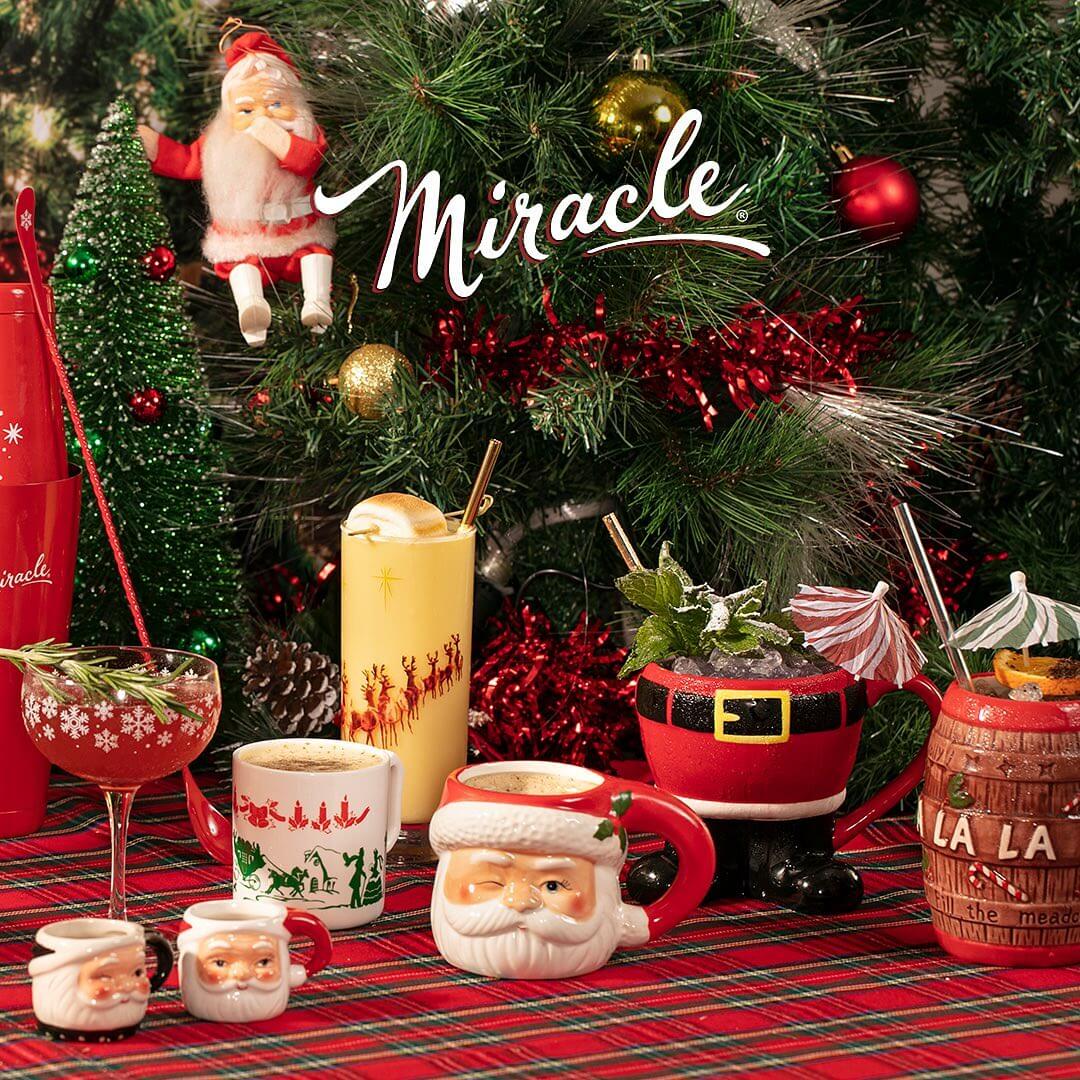 Downtown Holiday Windows
Art installations are going up now in downtown windows. We will update here and share a map of the window art trail and more information about the artists soon!
Sippin Santa at Neon Moon
The sister pop-up bar to Miracle on 24Th, Neon Moon, also transforms into a Christmas wonderland! The holiday menu includes 12 cocktails plus a very merry holiday soundtrack. Sippin' Santa on 2nd is Birmingham's 5-star dive bar holiday extravaganza.
When: November 25 – December 30, 2022
Where: 2316 2nd Ave N, Birmingham, AL 35203 Website: https://www.neonmoonbham.com/sippinsanta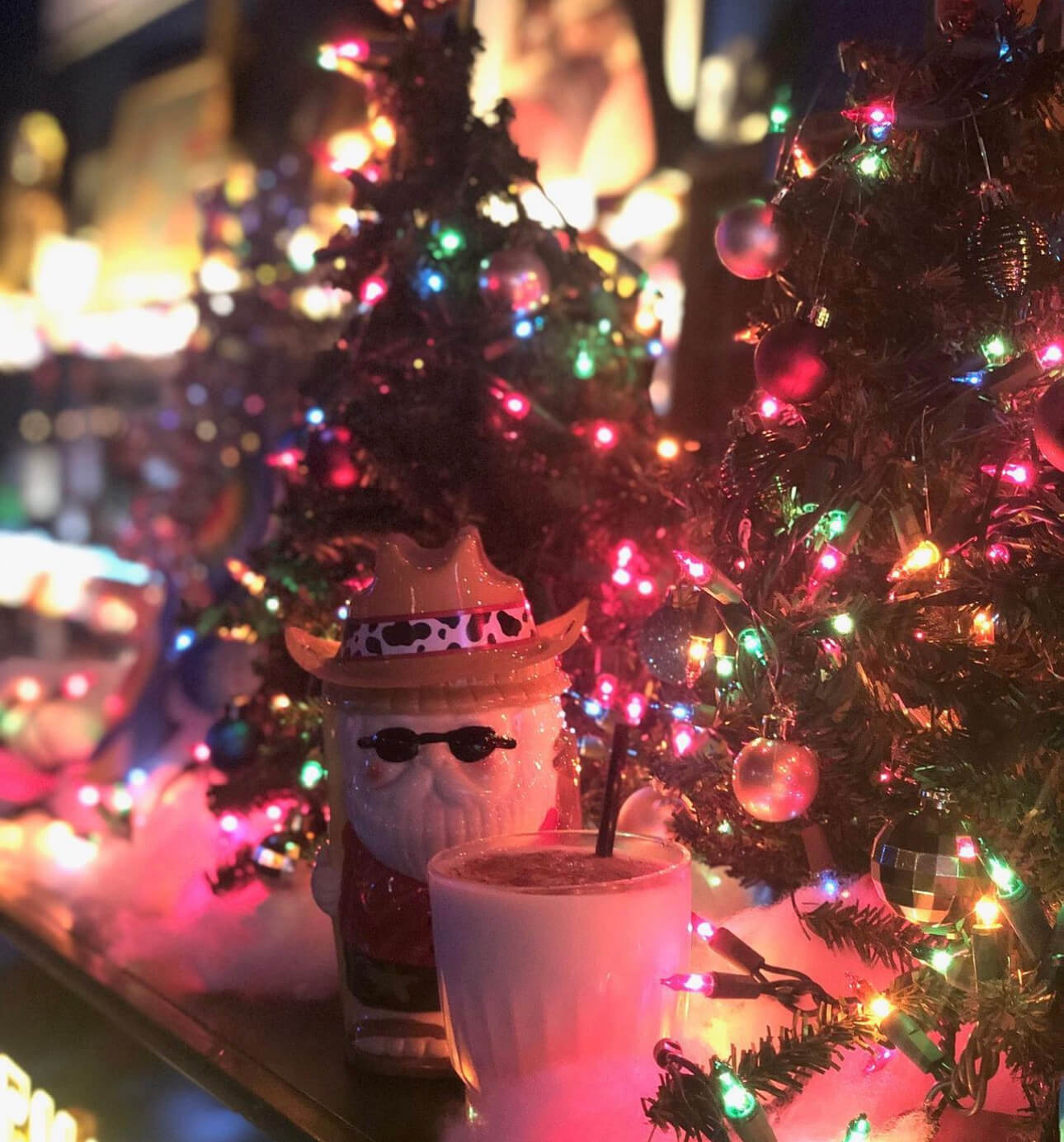 The City of Birmingham will host a holiday lighting in Linn Park
Mayor Randall L. Woodfin, the Birmingham City Council, the Birmingham Park and Rec Board and Coca-Cola UNITED will present the city's Holiday Tree Lighting Block Party on Sunday, Nov. 27 in front of City Hall on Short 20th Street North. There will be vendors, food trucks, free concerts and a lighting of the Christmas tree.
Because Hanukkah is not until Sunday, Dec. 18, the city's large menorah will not be lit during the tree lighting. Instead, the menorah will be at the event, just not lit. The city will light the large menorah, which will be located inside the lobby of City Hall, once Hanukkah starts.
When: November 27, 2022 from 4 to 8pm
Where: 710 20th St N, Birmingham, AL 35203
Website:www.birminghamal.gov/treelighting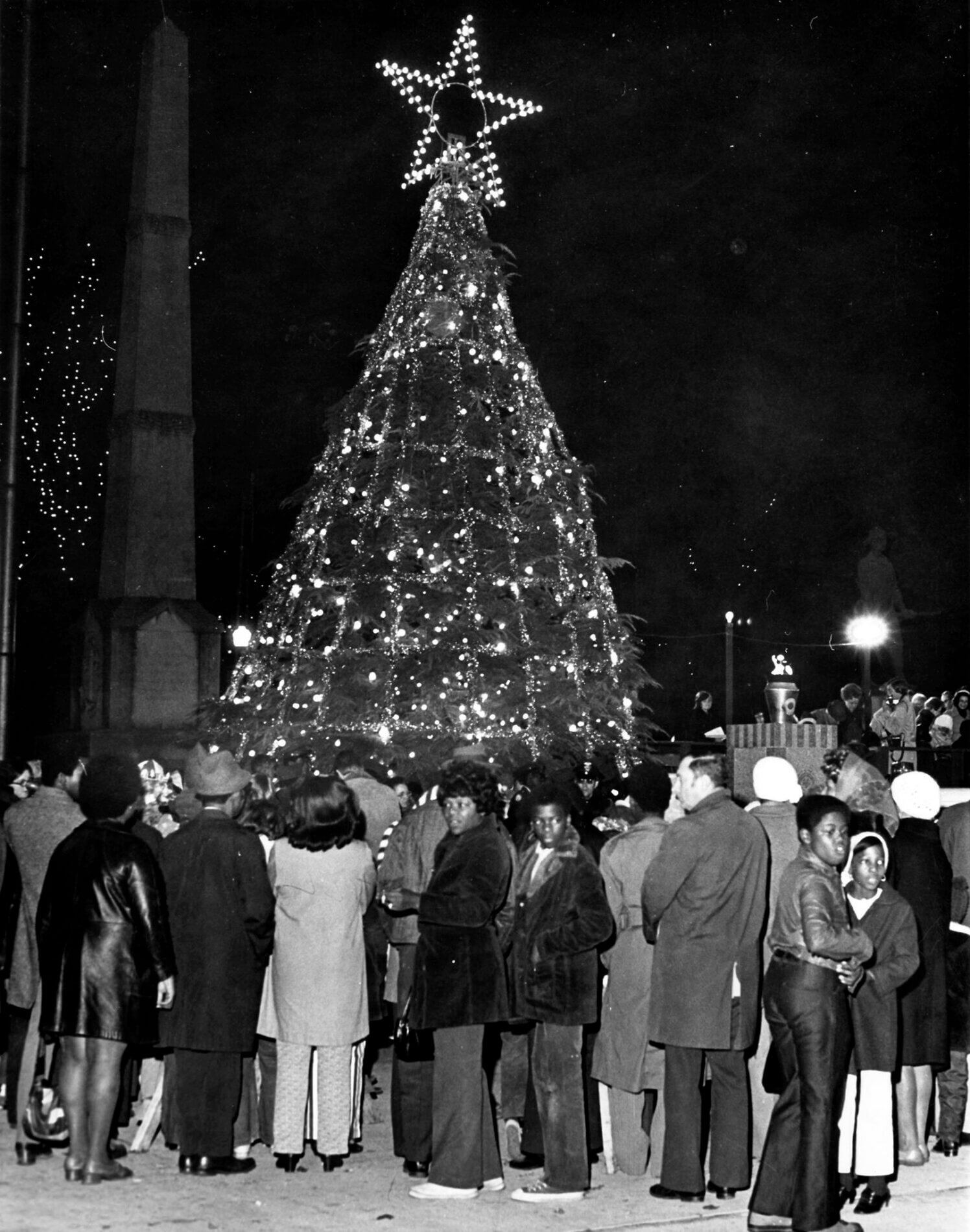 Red Mountain Holiday Spectacular
Cozy up to our annual Holiday Spectacular – a gift of your favorite music of the season, performed by Birmingham's best talent and RMT's Youth Ensembles. It will leave your heart glowing and set the stage for a magical holiday season.
When: December 1 – December 18, 2022
Where: 1600 3rd Ave S. Birmingham Al 35233
Website: https://redmountaintheatre.secure.force.com/ticket/#/events/a0S5b00000BylVSEAZ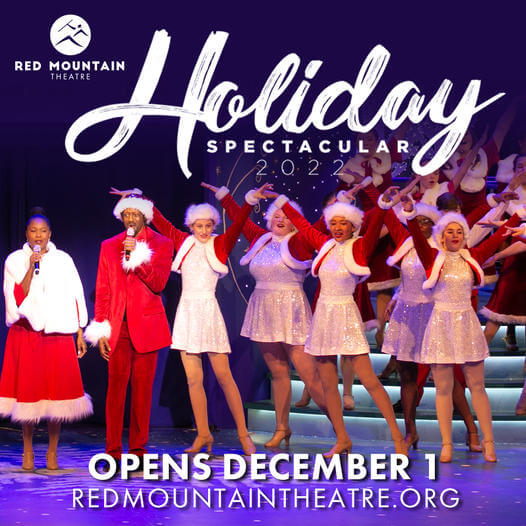 Birmingham Holiday Magic Street Market
Make plans to get some holiday shopping done and treat yourself with goodies from Birmingham makers, who will be lining 20th Street between 2nd and 4th Avenue North.
When: December 2 from 4pm- 8pm
Where: 20th Street between 2nd and 4th Avenue North
Website: https://downtownbhm.com/news/theres-holiday-magic-back-in-the-streets-of-birmingham/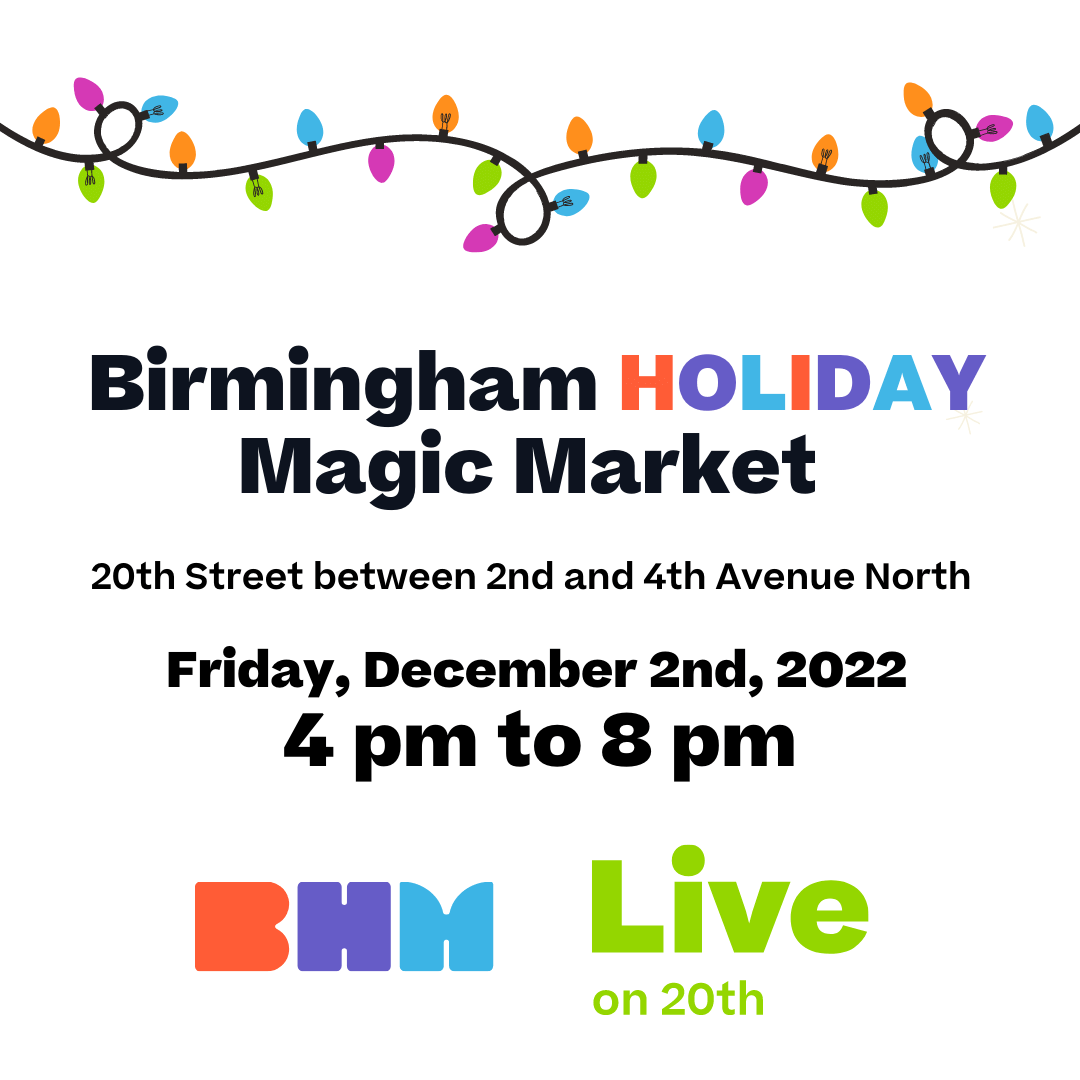 Grinch's Jingle Bell Party
Help McWane Science Center grow the Grinch's heart three sizes. Join us on December 3rd for a day of fun and hands-on holiday activities. Together, we are sure to make the Grinch smile! There will be dancing, crafts, cookies and hot chocolate, and a photo op with the Grinch!
When: December 3 from 10:30 – 3pm
Where: McWane Science Center 200 19th St N, Birmingham, AL 35203
Website: https://downtownbhm.com/news/theres-holiday-magic-back-in-the-streets-of-birmingham/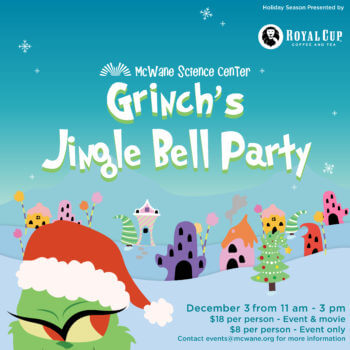 Magic City Nutcracker at Lyric Theater
This holiday season, join Clara on a magical journey as she battles the Rat King, visits the Land of Snow, and meets the Sugar Plum Fairy in the Kingdom of Sweets. Children and adults of all ages will be swept away by the fantastic tale that reminds us of the magic of the Christmas season.
When: December 2 – 4, 2022
Where: Lyric Theater, 1800 3rd Ave N, Birmingham, AL 35203
Website: https://www.magiccitynutcracker.org/ballet-in-the-park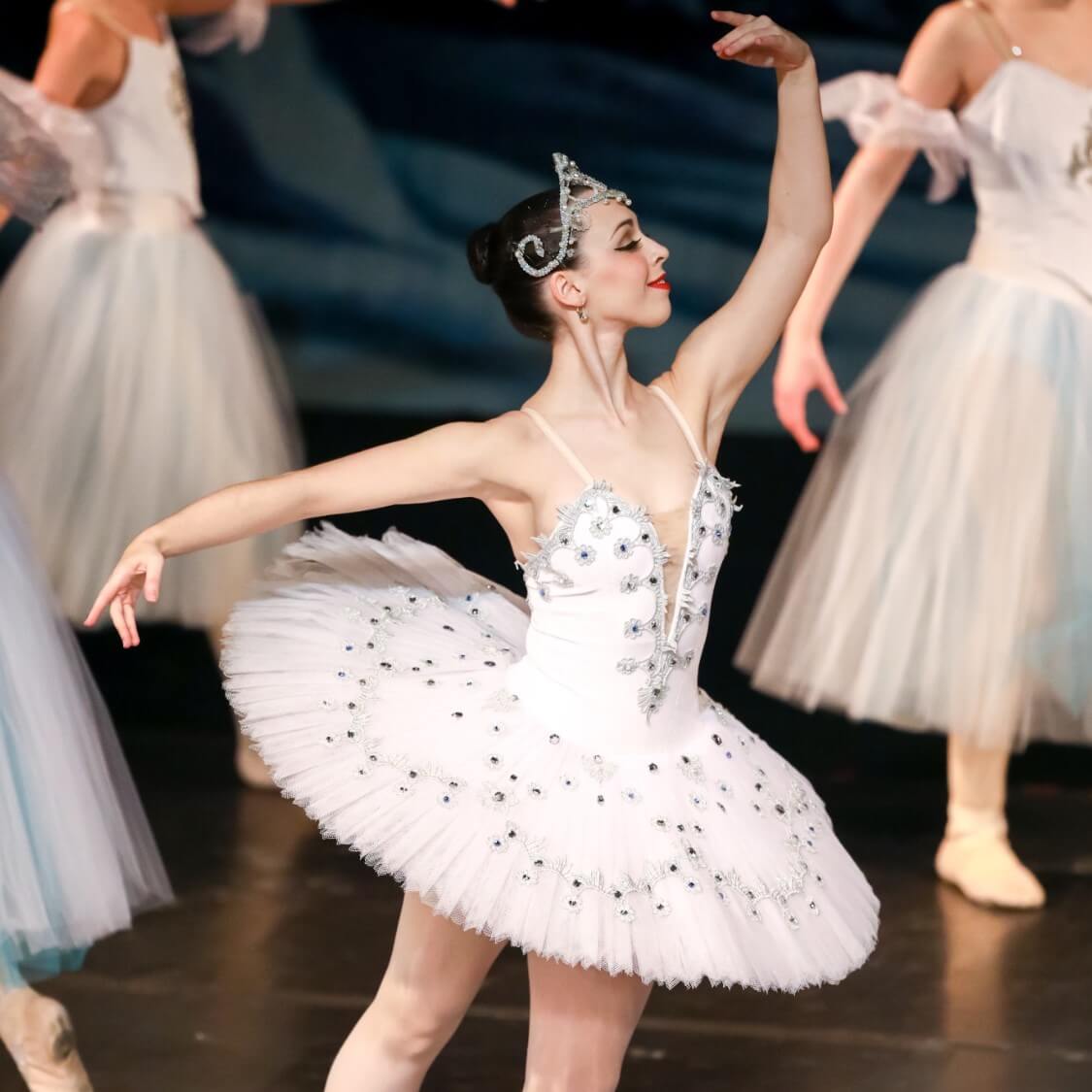 Cirque Dream Holidaze
Cirque Dreams Holidaze lights up the stage with a brilliant and whimsical family holiday spectacular. This annual tradition wraps a Broadway-style musical around an infusion of contemporary circus arts into the ultimate holiday gift for the entire family. As lights dim and the music swells, a fantastical cast of holiday storybook characters, gingerbread, reindeer, ballerinas, penguins and more come to life, invoking the dreams behind a child's eye on this most magical of nights. With an original music score, twists on holiday classics sung live, and with new sets, scenery, and storylines, this family-friendly production is sure to put a twinkle in your eye!
When: December 9 and 10, 2022
Where: The BJCC, 2100 Richard Arrington Jr Blvd N, Birmingham, AL 35203
Website: https://www.ticketmaster.com/cirque-dreams-holidaze-touring-birmingham-alabama-12-09-2022/event/20005CC98C37AFB0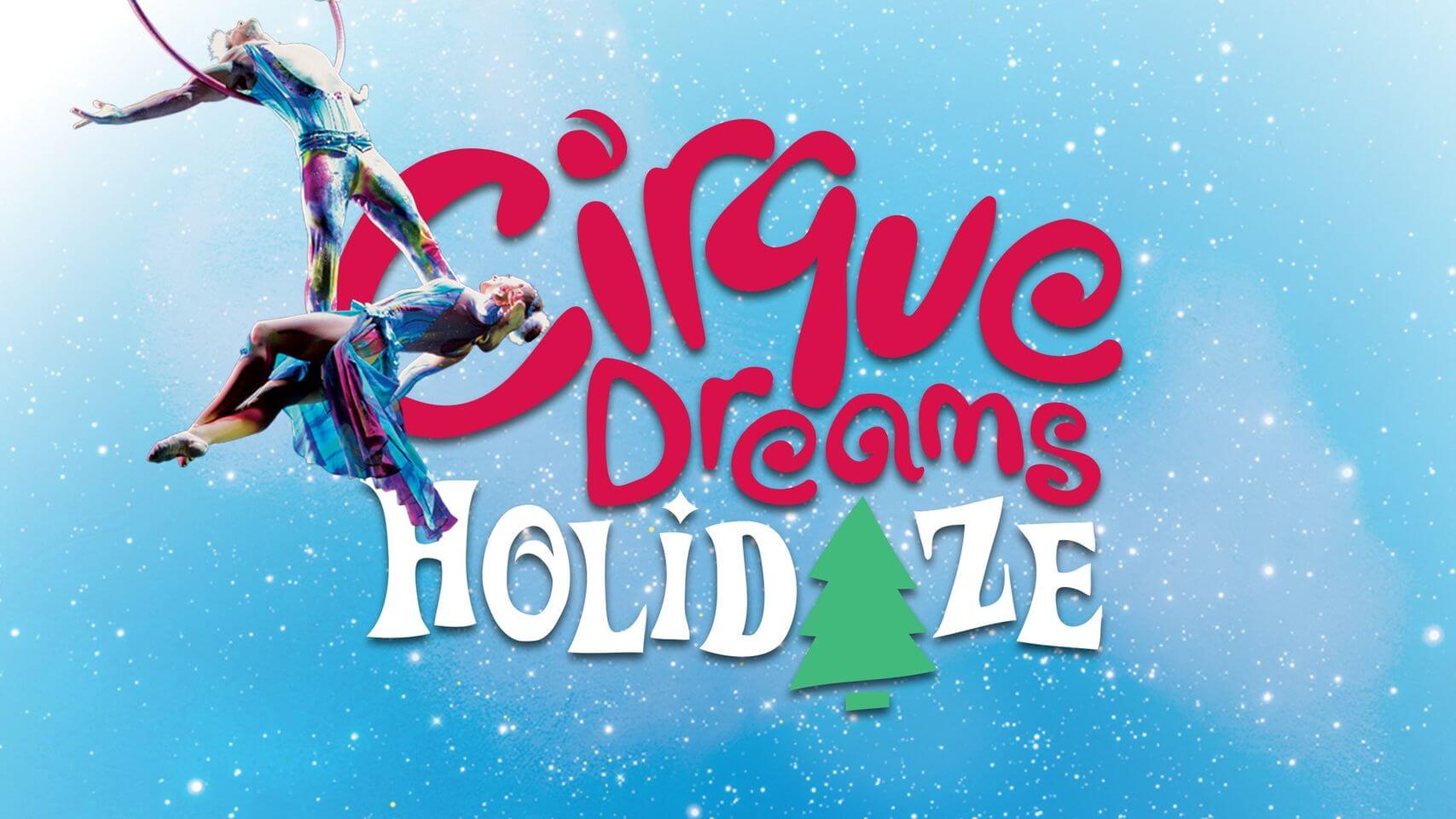 Alabama Theater Holiday film series
Watch all your favorite Christmas movies at the historic Alabama Theater this holiday season. Featured movies include White Christmas, The Polar Express, Christmas Vacation, Elf, It's a Wonderful Life, A Christmas Story, etc.
When: December 9 – 22, 2022
Where: Alabama Theatre, 1817 3rd Ave North Birmingham, AL 35203
Website: https://alabamatheatre.com/event/coming-soon-2022-alabama-theatre-holiday-film-series/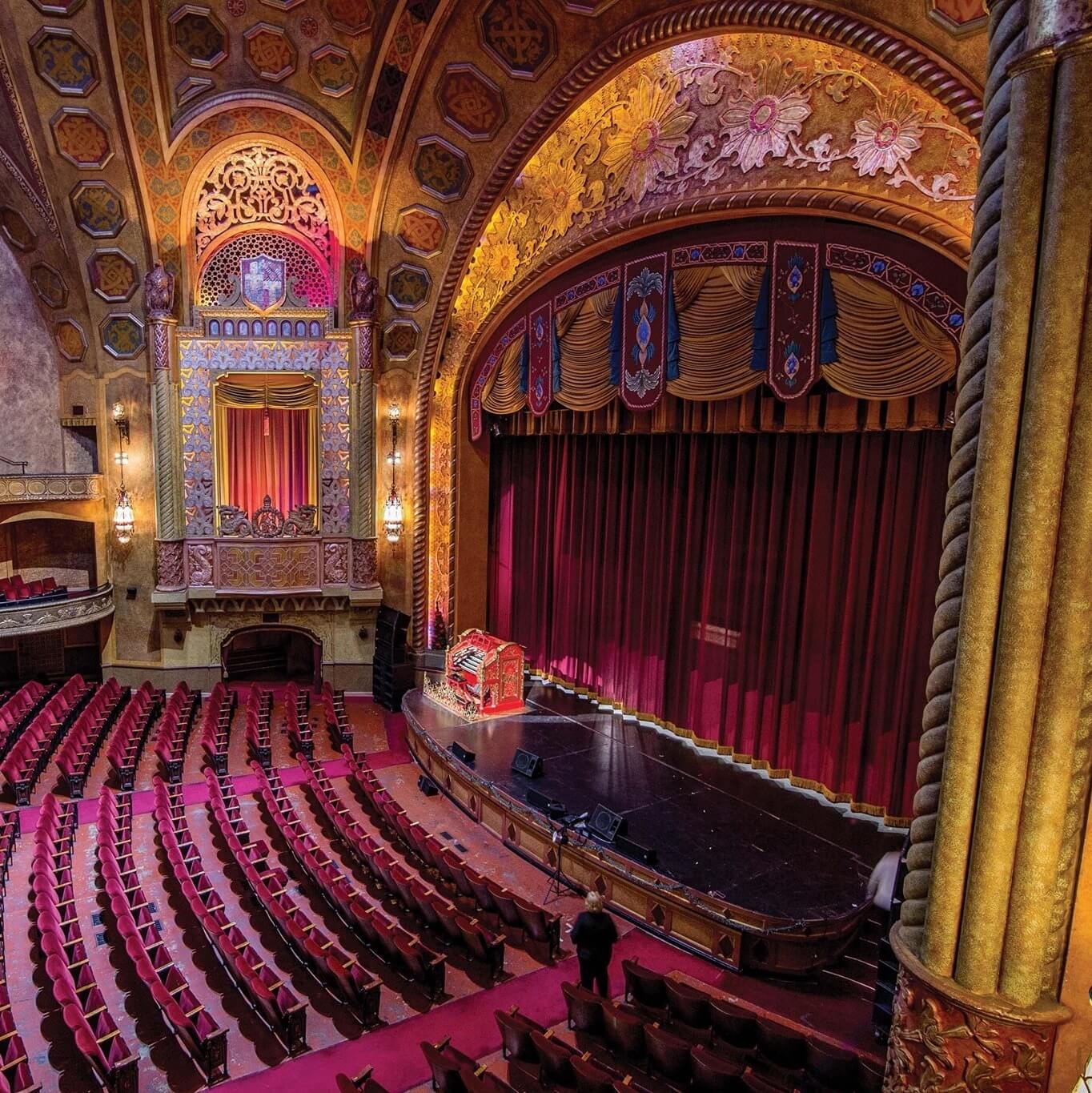 Beers and Carols
Ghost Train Brewing Company is hosting a night full of beers and carols. They will be led in song by First Church musicians. In addition to Ghost Train's variety of brews, there will be special Christmas cocktails and non-alcoholic holiday beverages available. Uncle G's Pizza truck will be on site for dinner as well! This is a family-friendly event, and no reservations are necessary. So, put on your favorite ugly Christmas sweater or festive outfit and join Ghost Trian for some holiday fun!
When: December 11. 2022
Where: 3501 1st Ave S Suite 101B, Birmingham, AL 35222
Website: https://ghosttrainbrewing.com/

Lessons and Carols
The Cathedral Church of the Advent offers several services of Lessons and Carols every year during the Advent season, leading up to Christmas. These services are based on a structure popularized by Kings College, Cambridge (in England) and features passages of Scripture read, anthems, hymns and carols sung, drawing all who attend more deeply into the story of the coming of Christ. The Advent offers these services during one of our Sunday morning services, on a Thursday evening in December, and on a Sunday evening during our 5:00 p.m. service
When: December 15, 2022
Where: Cathedral Church of the Advent, 2017 Sixth Avenue North Birmingham, Alabama 35203
Website: https://adventbirmingham.org/holidays-and-seasons/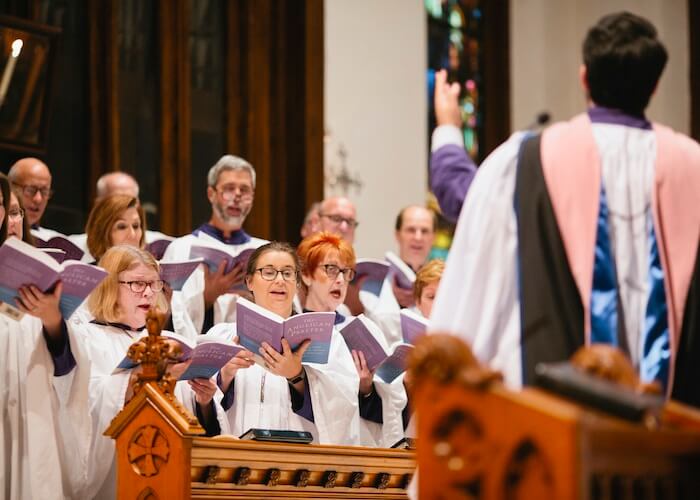 Trans-Siberian Orchestra – The Ghosts of Christmas Eve
Trans-Siberian Orchestra is an American rock band founded in 1996 by producer, composer, and lyricist Paul O'Neill, who brought together Jon Oliva and Al Pitrelli and keyboardist and co-producer Robert Kinkel to form the core of the creative team. Join them as they play tracks from The Ghosts of Christmas eve at the Legacy Arena in December.
When: December 15, 2022
Where: Legacy Arena at The BJCC Birmingham, AL
Website: https://www.ticketmaster.com/transsiberian-orchestra-the-ghosts-of-christmas-birmingham-alabama-12-15-2022/event/20005D1CA50CB6F9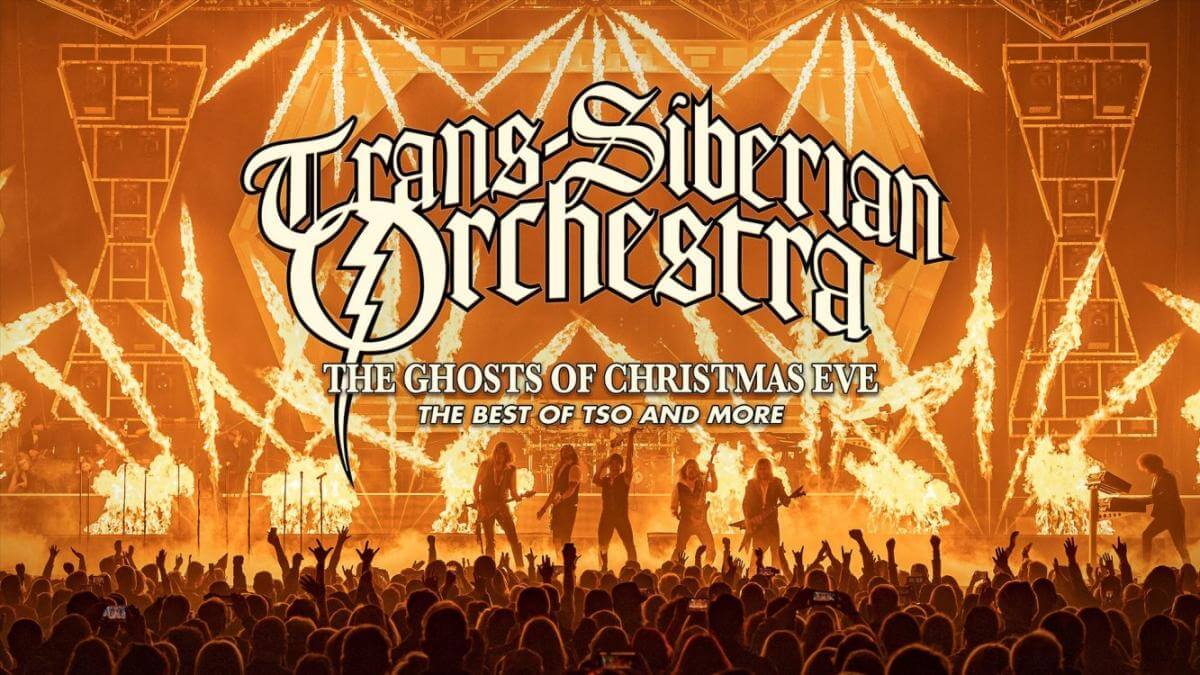 George Balanchine's The Nutcracker
Alabama Ballet is proud to present George Balanchine's The Nutcracker® as one of only eight companies in the world licensed by the Balanchine Trust to perform this holiday masterpiece. Tchaikovsky's beloved melodies transport the young and young at heart to a magical world where mischievous mice besiege a battalion of toy soldiers, and an onstage blizzard leads to an enchanted Land of Sweets.
When: December 16 – 23, 2022
Where: BJJCC Concert Hall
Website: https://alabamaballet.org/nutcracker/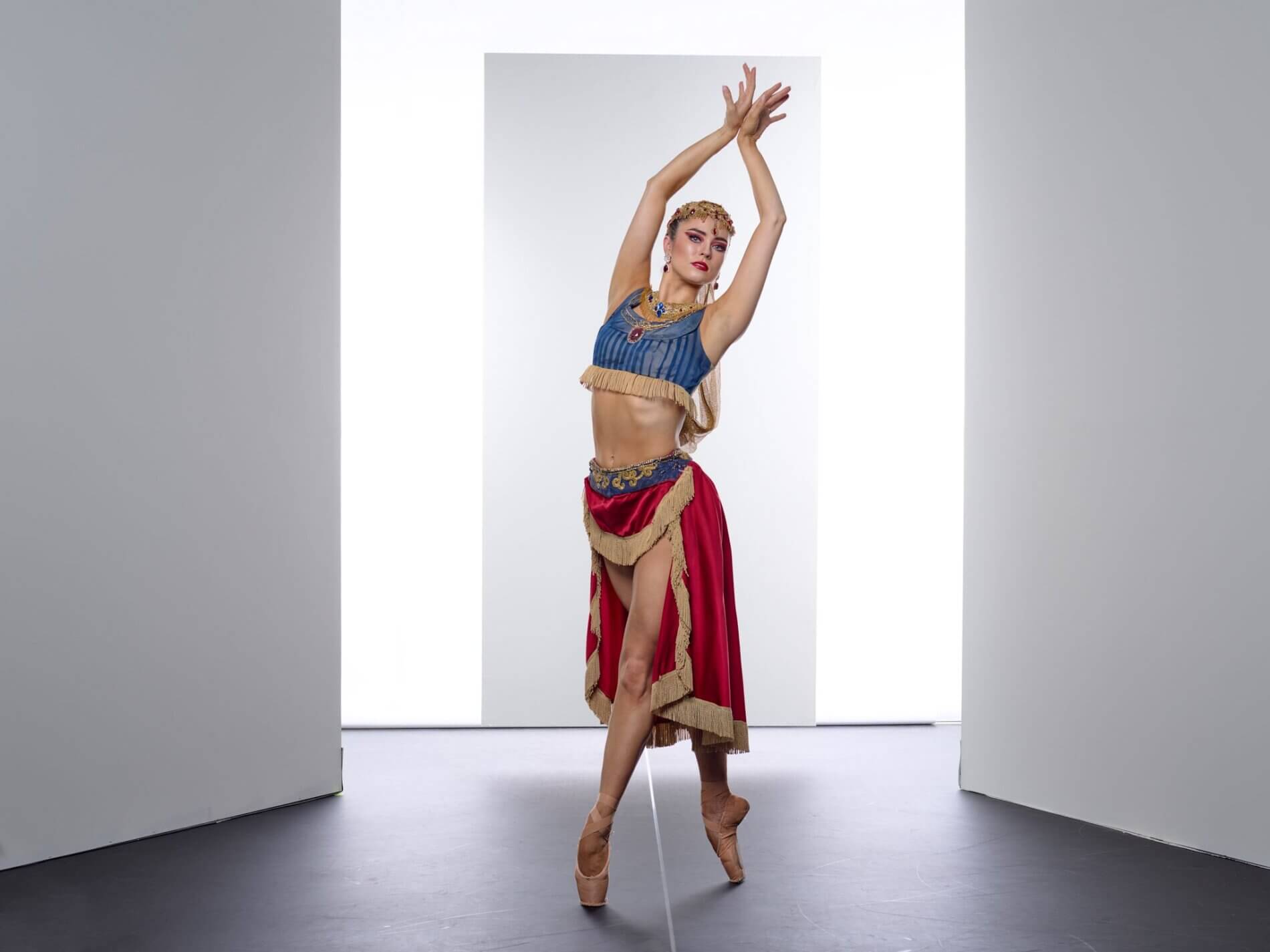 Ursula Smith's The Brown Sugar Nutcracker
Ursula Smith, a celebrated choreographer and dancer, who's reimagined the traditional tale to create a cultural holiday experience for Birmingham and the Southeast.
The Brown Sugar Nutcracker has been a family heirloom of the Brown's family for generations. Marissa inherits the Brown's family nutcracker during The Christmas Annual Family Gathering and her adventure begins when she discovers her Brown Sugar Nutcracker is a gateway to a Magical World!
When: December 17– 18, 2022
Where: 800 19th St N, Birmingham, AL 35203
Website: https://us.patronbase.com/_DJDTheater/Productions/19/Performances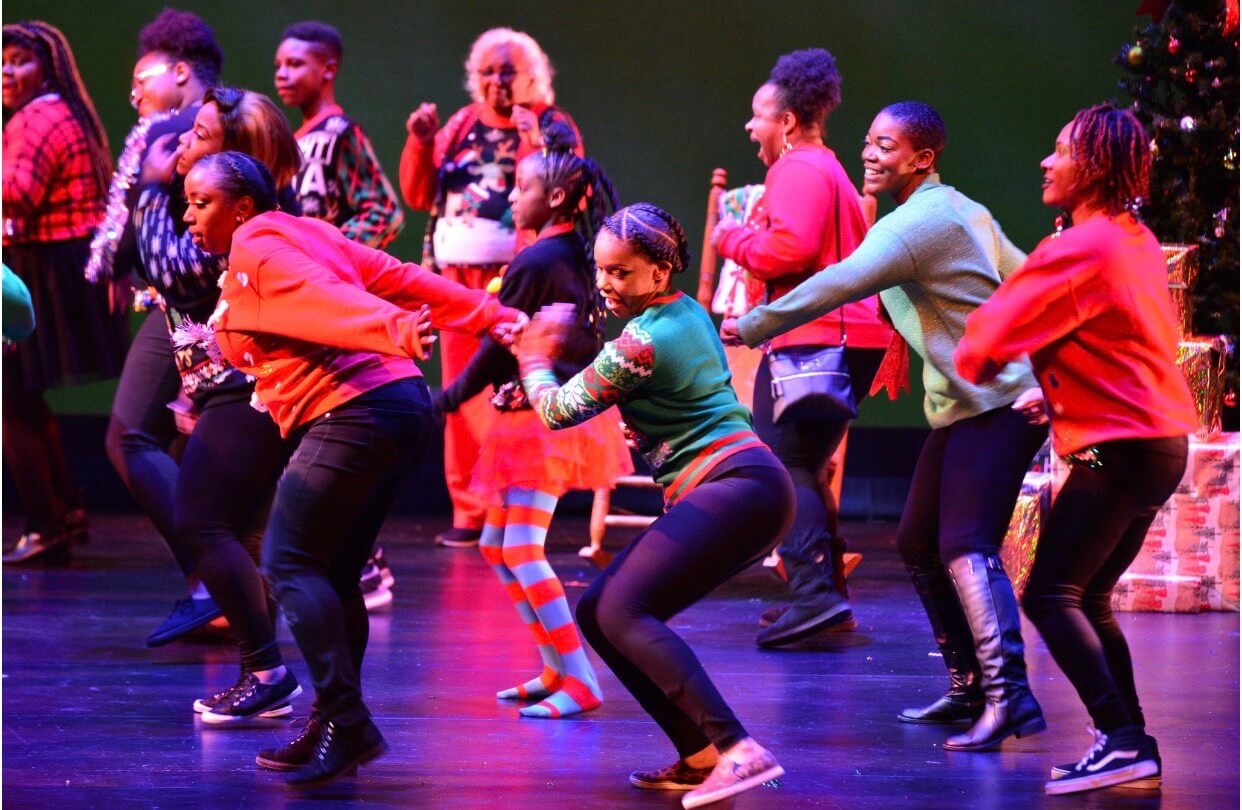 Read More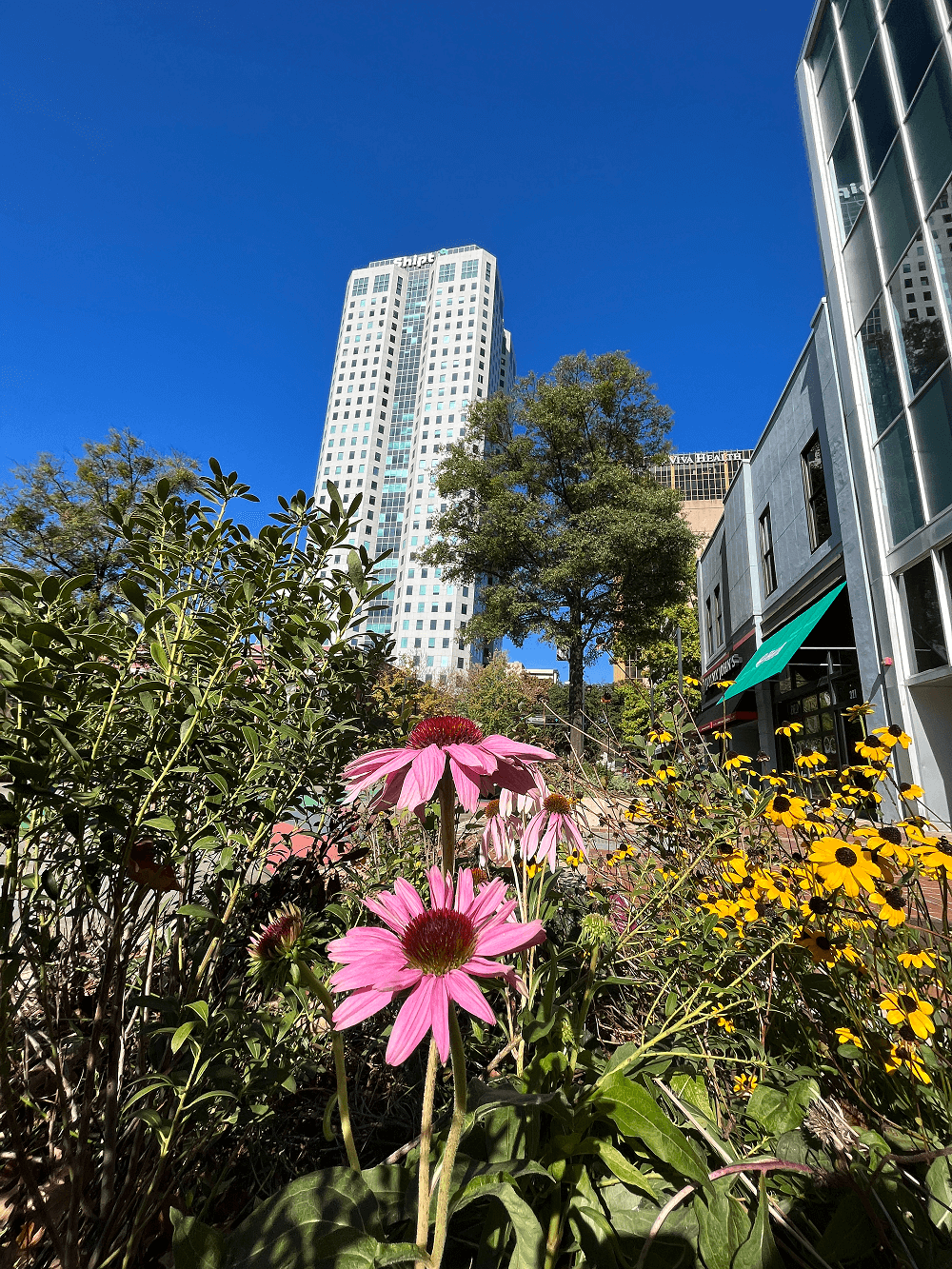 With winter approaching, most plants on 20th are entering dormancy. These plants provide more than just a pretty landscape they also support native wildlife. The plants chosen for the Birmingham Green refresh were strategically placed to offer low-maintenance options and add a sense of place. Plants play a much larger role than just looking attractive.
---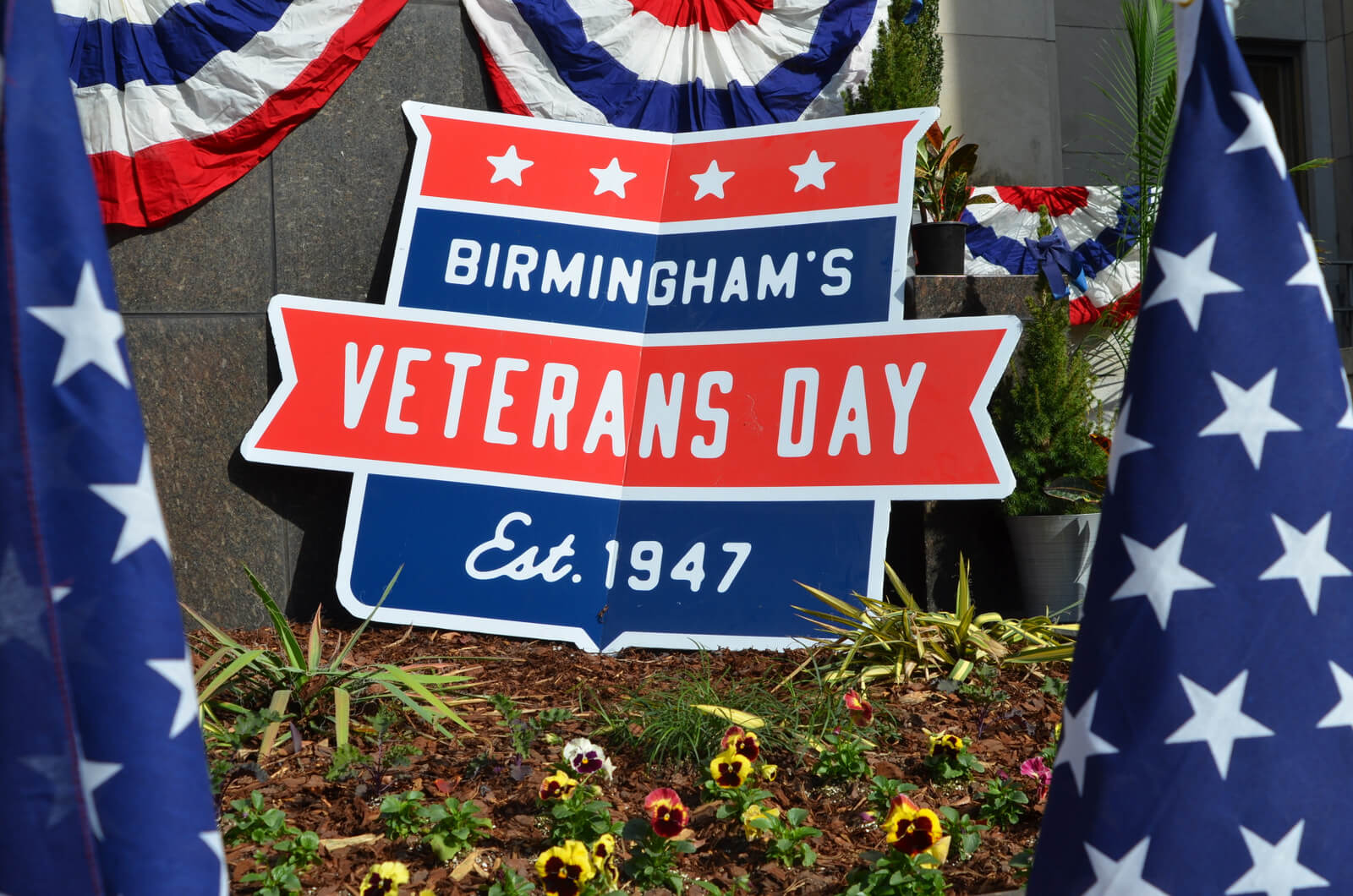 At REV Birmingham, we love the fact that downtown is the best place for large community-wide celebrations. One of the most vibrant places to celebrate Veterans Day is the city center of Birmingham! Visitors from all areas and backgrounds mingle with Birmingham's downtown workforce and neighbors at the greatest Veterans Day parade to honor those who have served. Which the 75th annual Veterans Day coming up, here's what you need to know about all the festivities!
---