20th Street is getting a makeover! Here's what to expect
February 7, 2022 · Engage
We have BIG news to share! The City Center District Management Corporation (CCDMC), a self-help Business Improvement District (BID) funded by downtown property owners that also brings you the CAP clean and safe program, is partnering with the City of Birmingham and REV Birmingham to undertake a bold refresh of Birmingham Green—downtown's signature street.
We'll be keeping this page updated with street closing and construction information!
You're probably wondering what exactly that means – well let us tell you! The project will be implemented on 20th Street North from the railroad tracks to Linn Park and will include new native and drought-resistant landscaping (like the plants you see in Railroad Park and Rotary Trail), plus cafe-style seating and an expansion of the bike and flex lanes installed on a portion of the street in 2020.  Basically, 20th Street is getting a huge make-over that's been a long time coming!
As you might imagine, projects of this magnitude don't happen overnight. Let's recap all the hard work that has gone into downtown's beloved main street!
In the 1970s, corporate and civic leaders executed a major community-driven project to redesign 20th Street, which became known as the Birmingham Green.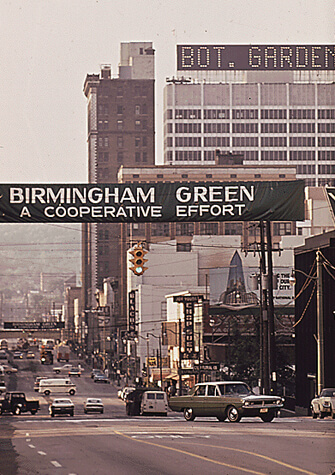 The renovation included new sidewalks, landscaping, lighting and street furniture – and converted the former streetcar space into the lush green medians we all recognize.
The Birmingham Green project gave 20th Street the makeover it desperately needed at the time, but the streetscape was not revisioned again until 2018. In January 2018, The Regional Planning Commission of Greater Birmingham (RPCGB) released an APPLE study exploring the opportunity to redesign the corridor with enhanced transit and pedestrian amenities. The concepts were informed by stakeholder input, generating excitement around 20th Street's potential.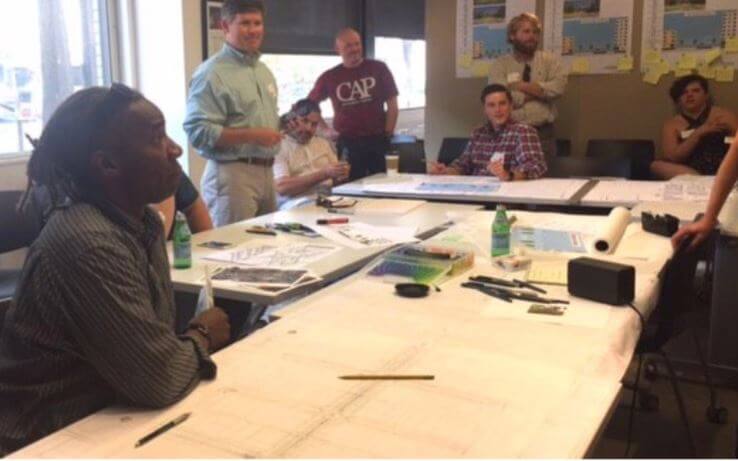 Although there was not enough funding to push it forward at the time, there was a lot of public input on how the public wanted to see this street. Feedback showed that they wanted it to be less car-centric and more human-centric, with more room for people to live, work and play on 20th Street.
In Fall 2019, REV Birmingham realized that there was an increasing demand for something on 20th Street. We pitched the idea to the mayor—that the World Games are coming and years of planning that say we need to invest in 20th Street. We demonstrated our plan to the mayor's team—we could execute the entire plan at an affordable price and make it work—and we were able to get the plan approved!

REV began working with staff from City departments and organized six professional landscape architecture firms—Dix Hite + Partners, Golightly Landscape Architecture, Goodwin Mills Cawood, Macknally Land Design, Renta Urban Land Design and Studio A Design—to provide pro bono designs for the street. We're grateful for the world-class work donated by community partners!
A demonstration project was completed for Park(ing) Day 2020 in partnership with the American Society of Landscape Architects and supported by Hunter Trees, Shelby General Contractors and Vulcan Materials.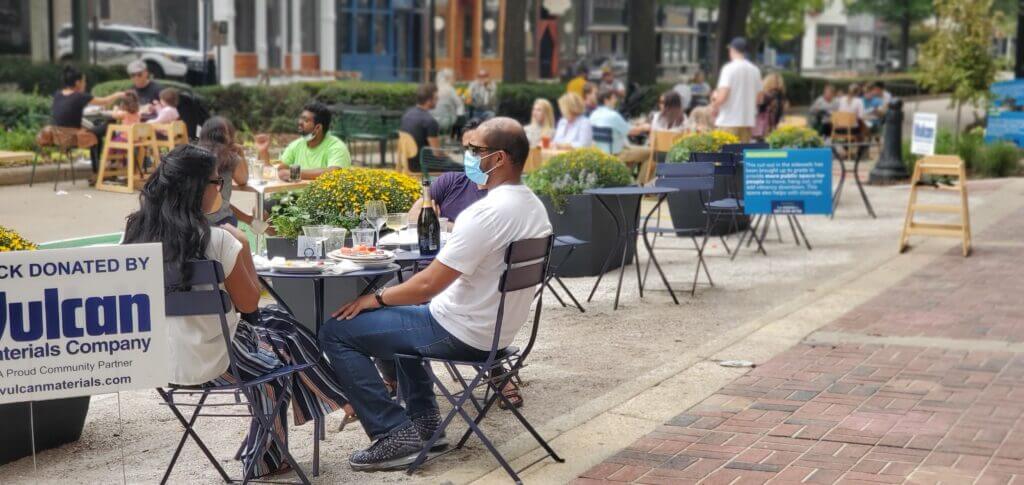 We learned a lot about what 20th Street stakeholders wanted to see in a refreshed Birmingham Green, and we prepared to take it to the next level.
The CCDMC partnered with REV Birmingham and collaborated with community partners to fund further planning and design for the project. PNC also supported pre-development work.

In Spring 2021, we expanded the flex lanes' footprint to test them on a larger section of 20th Street as we continued to work to make the full project a reality.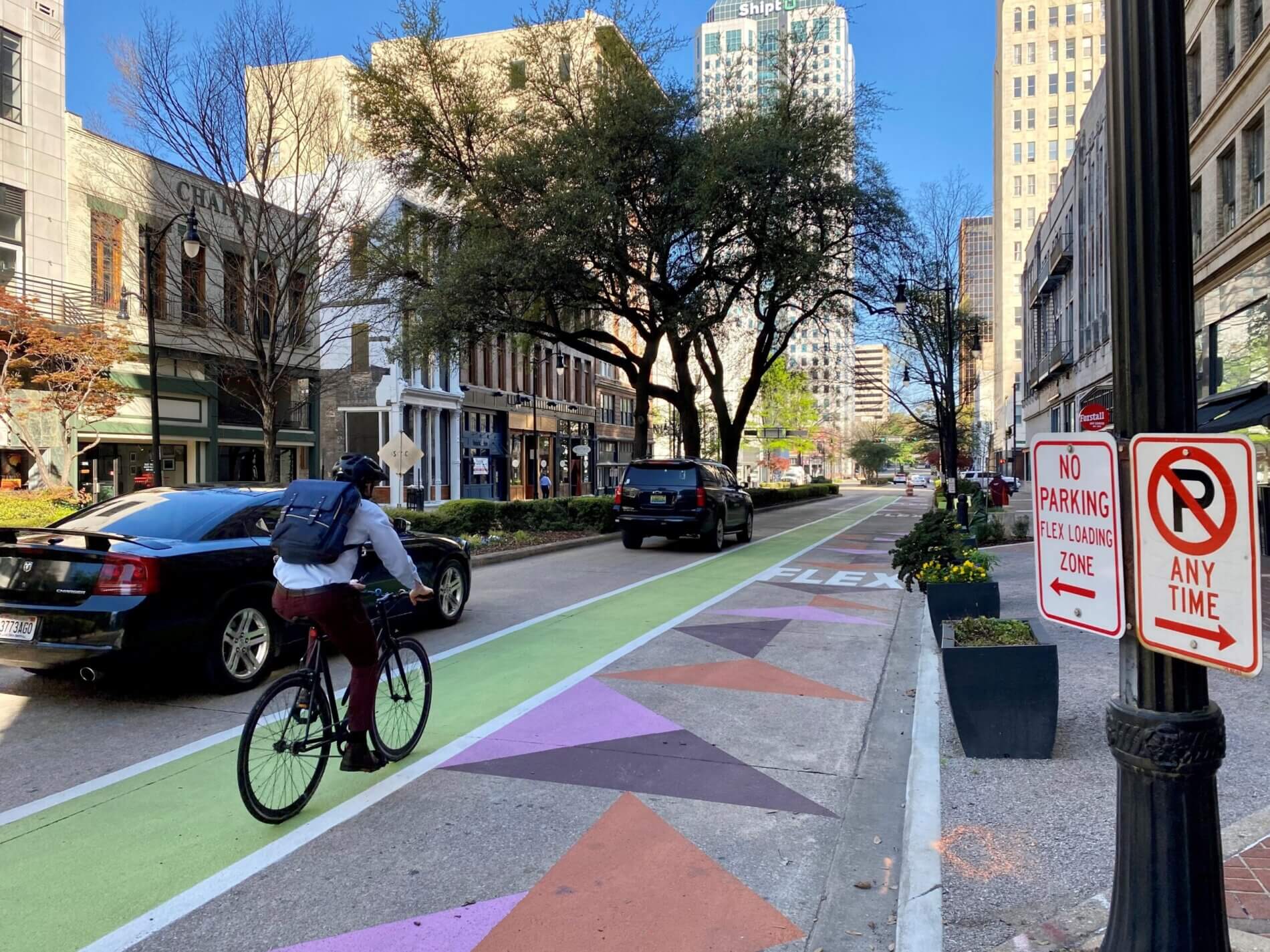 Later in the year, the Mayor's office, with support from District 5 Councilor Darrell O'Quinn (and eventually unanimous support from the City Council), helped identify and secure funding for the project from a fund specifically set aside for downtown capital projects like this.
So there you have it! That's the story of how we got to where we are today. We are so excited to announce that construction officially began on Monday, October 11, 2021 and it's set to be complete in time for Birmingham to welcome international visitors for the World Games 2022!  All businesses on 20th Street North plan to remain open throughout construction, which is scheduled in four 50-day phases: 
Phase 1: Northbound lane of 20th Street from 3rd Avenue North to Linn Park
Phase 2: Southbound lane of 20th Street from Linn Park to 3rd Avenue North
Phase 3: Southbound lane of 20th Street from 3rd Avenue North to Morris Avenue
Phase 4: Northbound lane of 20th Street from Morris Avenue to 3rd Avenue North
Signage will be installed on 20th Street to point to revbirmingham.org/20thstreet, which will be updated with construction information throughout the project. Frequent users of 20th Street are also encouraged to sign up for email updates on the page. Stay tuned to see results of this epic makeover! 
Where are we now?
As we've mentioned before, the "hardscape" work will be done in four phases. Now that the first phase is complete on the northbound lane of 20th Street from 3rd Avenue North to Linn Park let's talk about what gets done in each phase.  
If you've been out on 20th St N recently, the first thing you probably noticed is the new crosswalks! Cracked and degrading concrete in the crosswalks have been replaced with beautiful new brick crosswalks. Every crosswalk on 20th St N between Morris Ave and Park Place is getting replaced, and trip hazards in the sidewalks are being leveled and re-bricked as well.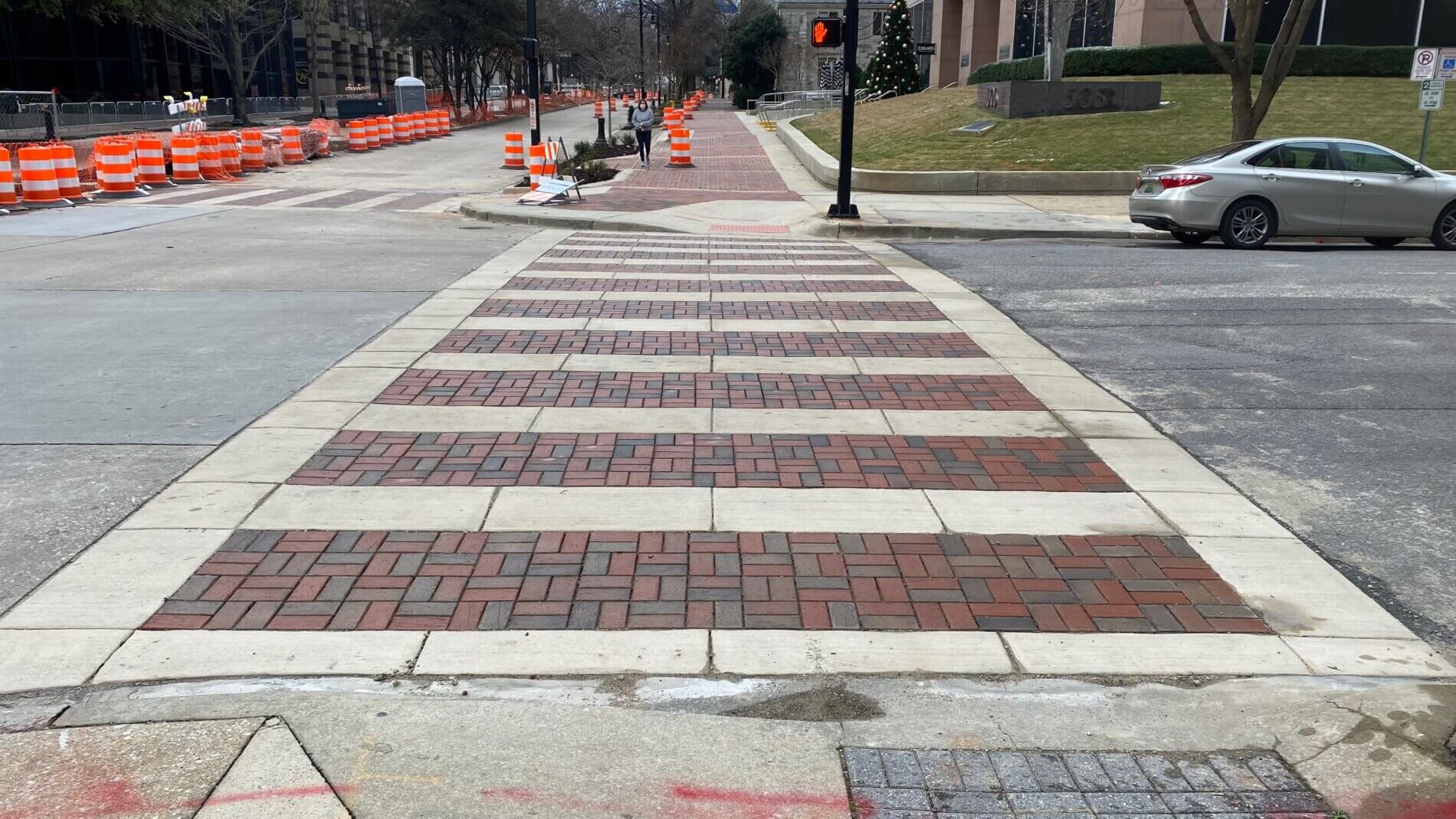 The biggest lift in each phase is the concrete work. Obsolete curbs and knee walls are being removed and replaced to give the street a more open and uniform look. Brand new curbs are being poured to straighten curb lines where old loading zones will be made redundant by the new flex lanes. The resulting newly created sidewalk level space is being filled with a permeable crushed gravel surface that will create more room for outdoor café seating similar to what you already see in front of ZaZa. Bulb outs are being added at key intersections to shorten crossing distances for pedestrians and improve safety. Old concrete benches are being pulled out, and will be replaced with even more public seating (more on that later in this piece).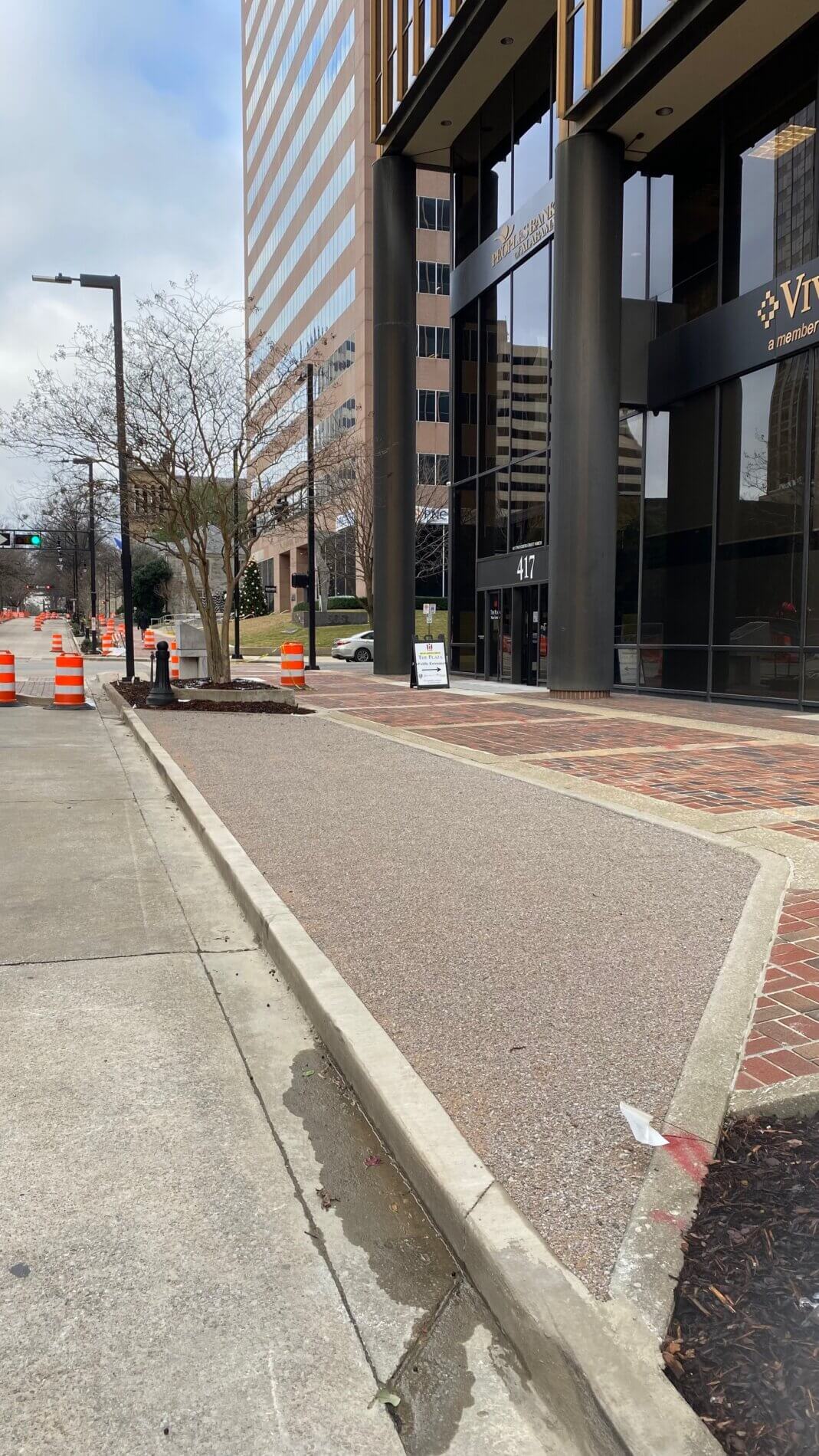 As part of each phase, the planting beds are being refreshed with new native and lower maintenance plants. These new plantings incorporate some of the same elements found in other popular public spaces like Railroad Park and Rotary Trail. While you'll see lots of new plants on the completed northbound lane of 20th Street from 3rd Avenue North to Linn Park phase, there is even more to come! Some of the plantings spec'd for this project need to be planted in spring, and others will be placed in brand new planters which will be added after all the hardscape work has been completed for the full project. 
Each phase should take about 50 days, meaning that this project is less than a year away from completion! 
After all four phases are complete, the final but most visible touches will go in all the way down 20th St. You'll see new plants and planters, bike lanes, colorful flex lane painting, and brand-new seating go in all at once. The new seating will be the type of movable tables and chairs pioneered by Bryant Park in New York. The new bistro sets will vastly outnumber the concrete benches they're replacing while also being more useful and inviting. 
We hope you're as excited as we are for all the great things coming to 20th Street this year! If you want more info about the progress as it happens, check out our 20th Street Refresh page HERE and you can even sign up for email updates on the project right to your inbox. 
Read More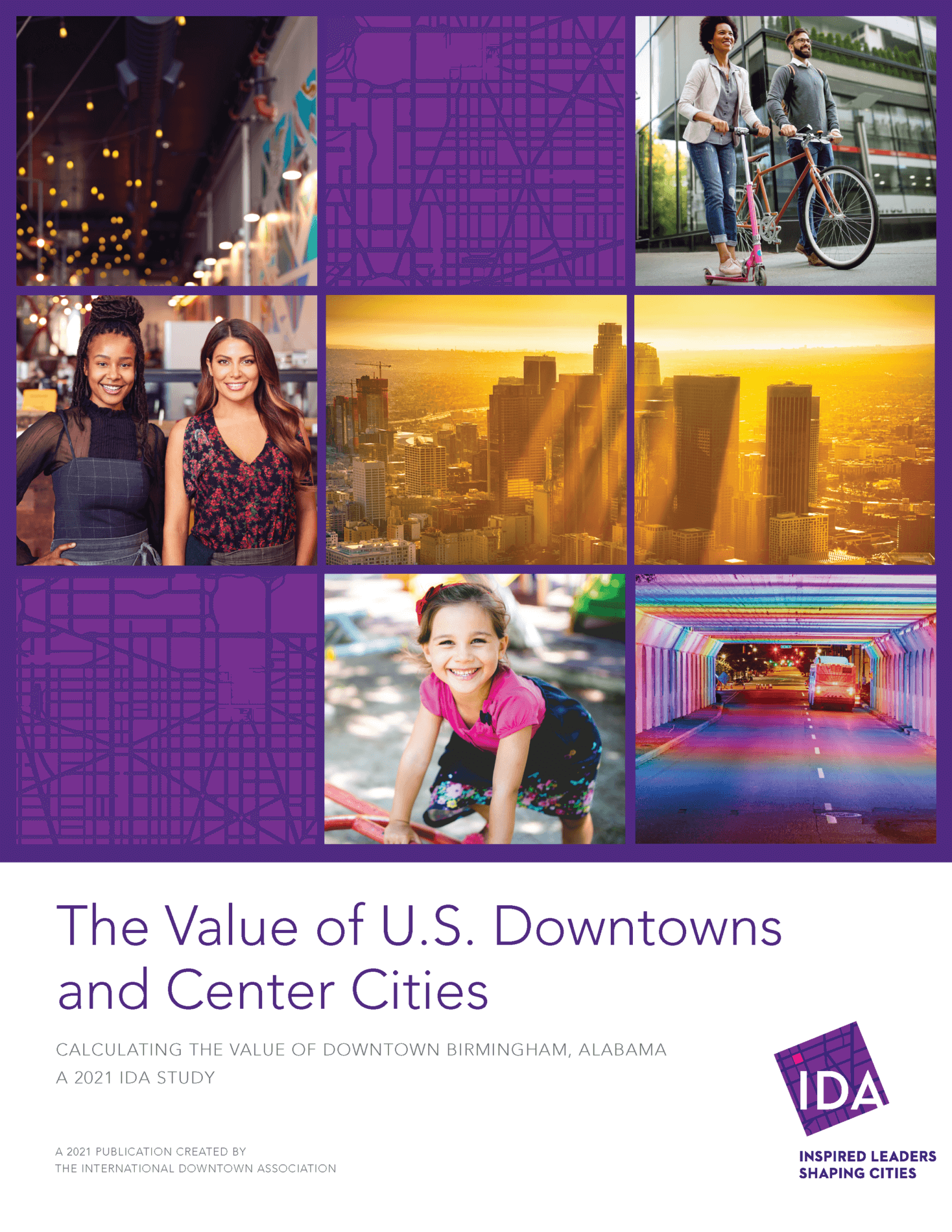 The report—The Value of Downtown Birmingham, presented by PNC Bank—establishes a baseline from which city leaders, corporate leaders and organizations like REV can track growth and identify priorities for downtown improvements. 
---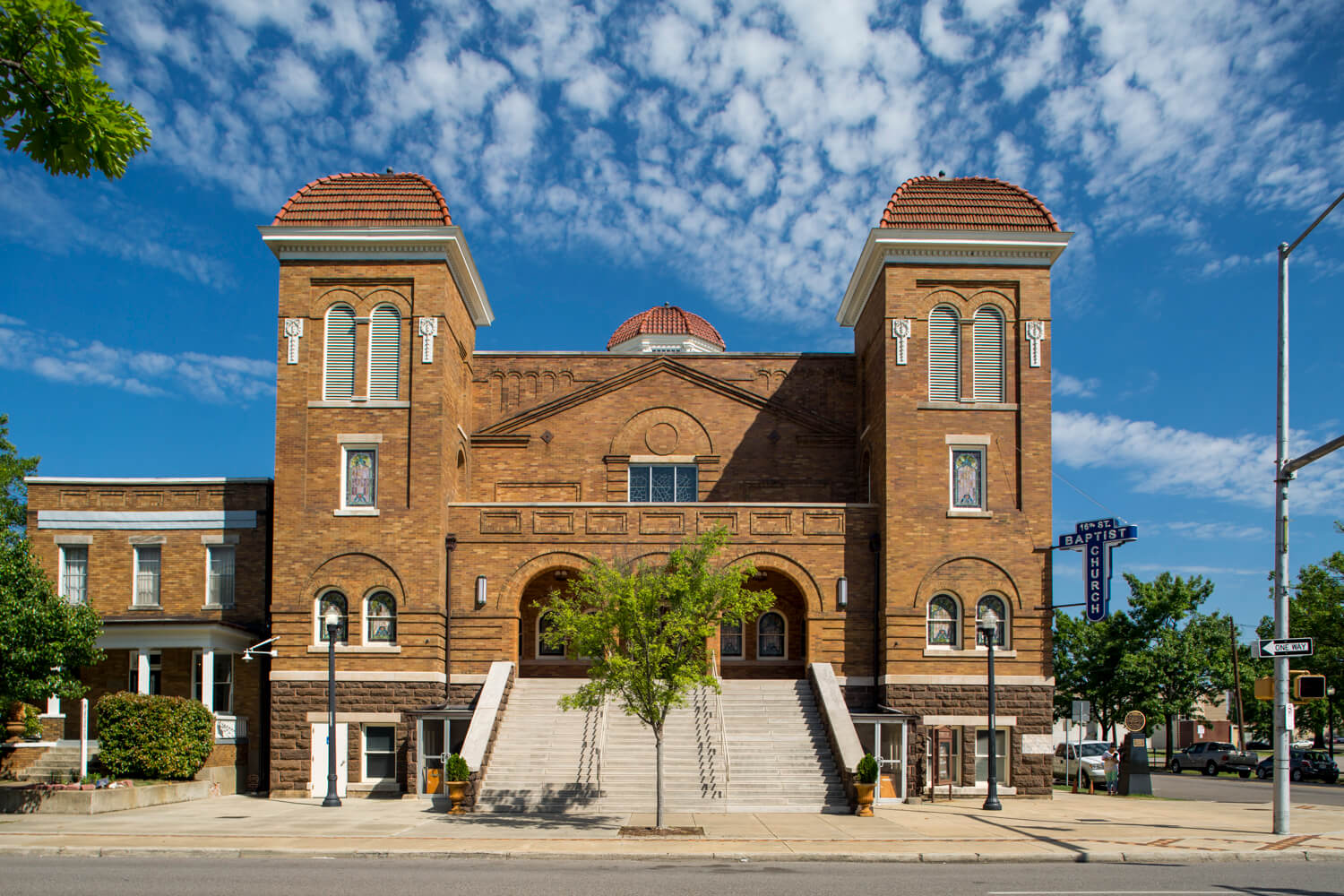 Downtown Birmingham is full of beautiful buildings, both new and old! A good portion of those buildings consist of churches, and while many of them are beautiful to look at, they also have a rich history that often gets overlooked.
---