See the impact your City Center BID team created in 2021
March 30, 2022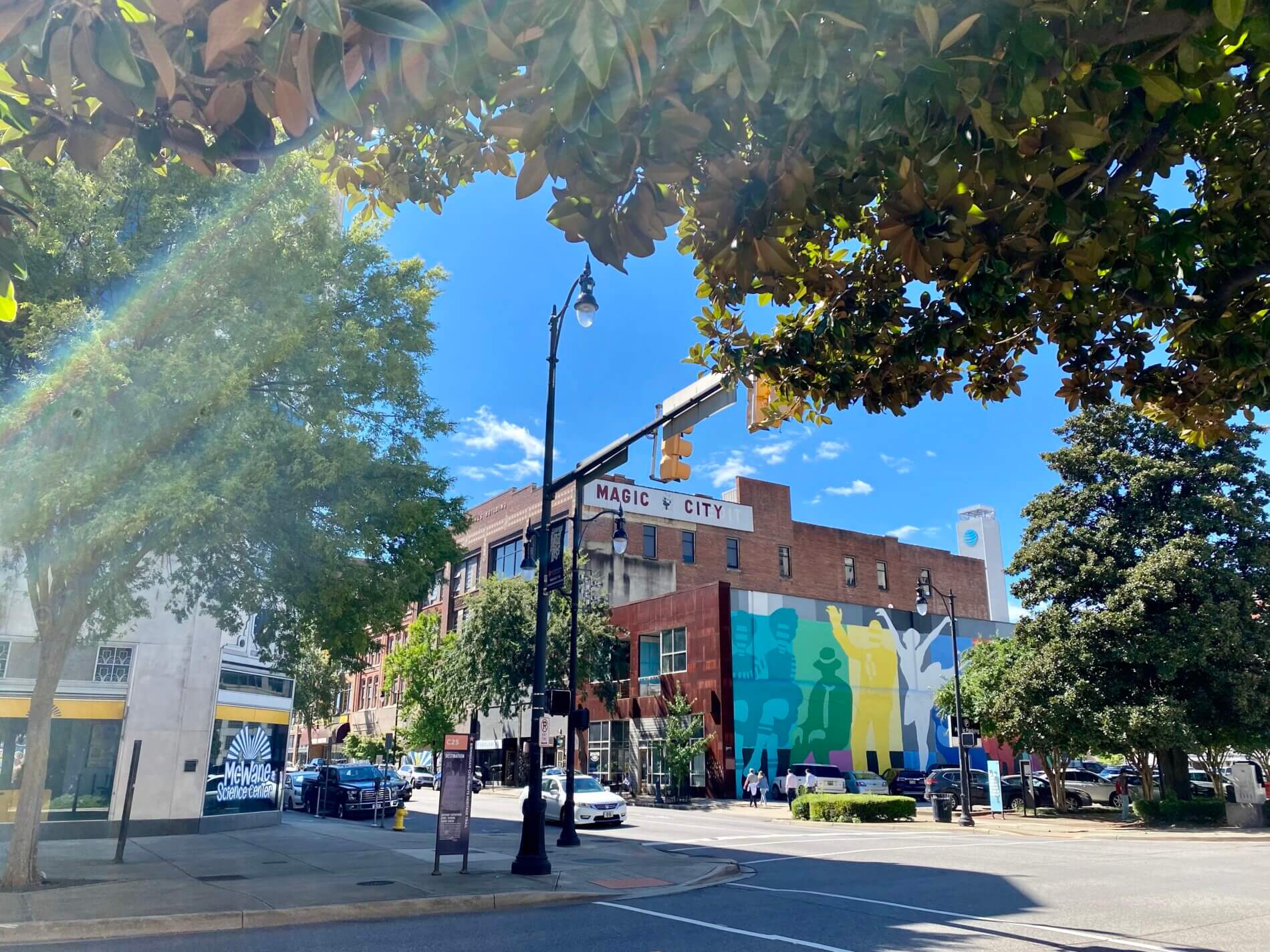 It's annual report season! In the nonprofit world, the first quarter is full of compiling and designing all the work you did in the previous year into report form to show the impact your organization has on its cause. In Downtown Birmingham, property owners fund the City Center Business Improvement District (BID) to bring you amenities and services like the CAP clean & safe program. The BID is like a homeowners' association but for our vibrant Downtown BHM business district. Downtown is the heart and soul of the region—and your BID team views it as our responsibility to make sure the City Center District is the center of it all. This is a summary of our 2021 efforts!
What is a BID?
You've probably heard us use this term a whole lot, but you may not know what it is. A BID, short for Business Improvement District, is designated by ordinance as a district where property owners formally pool their resources to provide supplemental services (like CAP!) to build on those provided by the city. Determined with input from property owners, services can include sidewalk sweeping, trash removal, security, special events, marketing programs, etc. It's paid for by those property owners via a special assessment. Think of it as a homeowners' association, but for a business district! All those extra services can in turn make the district more competitive by creating a cleaner, more attractive district and giving it a distinctive identity.
CAP is Downtown for You.
CAP is Downtown BHM's clean and safe program, funded by downtown property owners.
CAP ambassadors want to make sure everyone feels welcome and safe in Birmingham's City Center. They patrol downtown on foot, Segways, and bikes, and deter unwanted behavior and activities. They look for opportunities to help people and tidy up our district as they're out and about. And ambassadors visit businesses every day to check in and identify problems CAP can help address.
How can CAP help you? Call 205-251-0111 to request help within the City Center Business
Improvement District.
Value of Downtown
In partnership with REV Birmingham and the International Downtown Association (IDA), Downtown BHM property owners (who also fund downtown's CAP clean and safe program) published a data-filled report that compares Downtown Birmingham to the whole city and region, plus other downtowns across the country. The report – The Value of Downtown Birmingham, presented by PNC Bank – establishes a baseline from which city leaders, corporate leaders, and economic development organizations like REV can track growth and identify priorities – like retail growth, job growth, and more affordable and inclusive housing – for downtown improvements!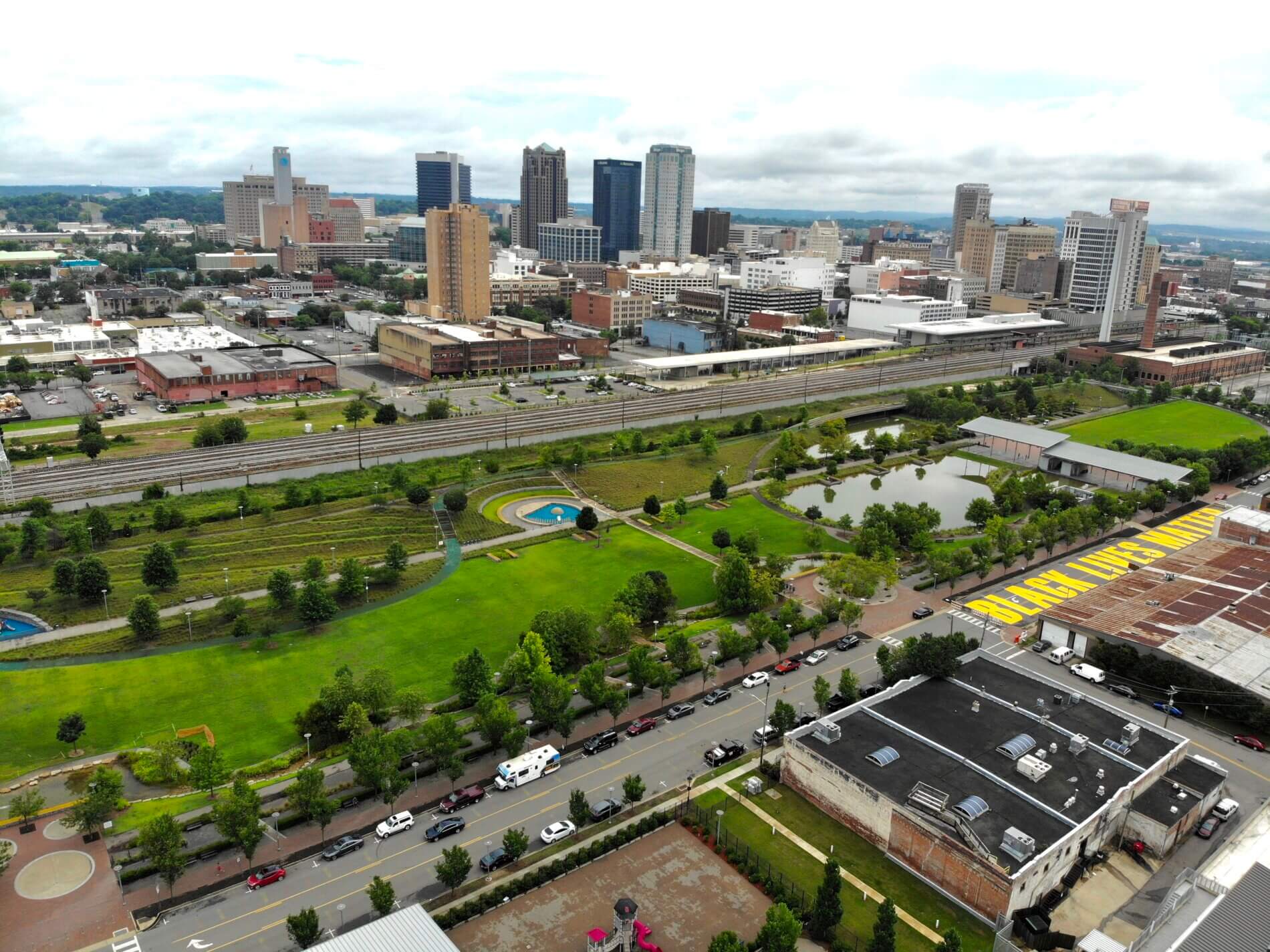 IDA classifies Downtown Birmingham as emerging
Emerging downtowns show rapid growth in either residents or jobs (though not both), or have begun to show positive signs of growth
Downtown Birmingham's vitality score: 52
This score compares Birmingham to peer downtowns; the national average is 50 (that means we're doing really good!)
Want to know more about the report and how we compare to other downtowns across the country? Download the full Value of Downtown Birmingham report below!
Downtown Birmingham Brand

Well since you're here, you probably know that we just launched a website! Follow @downtownbhm on Facebook, Instagram and LinkedIn to keep up with all things Downtown Birmingham.
And while you're at it sign up for our Downtown BHM newsletter by clicking here. It'll keep you updated on everything you need to know!
20th Street North Refresh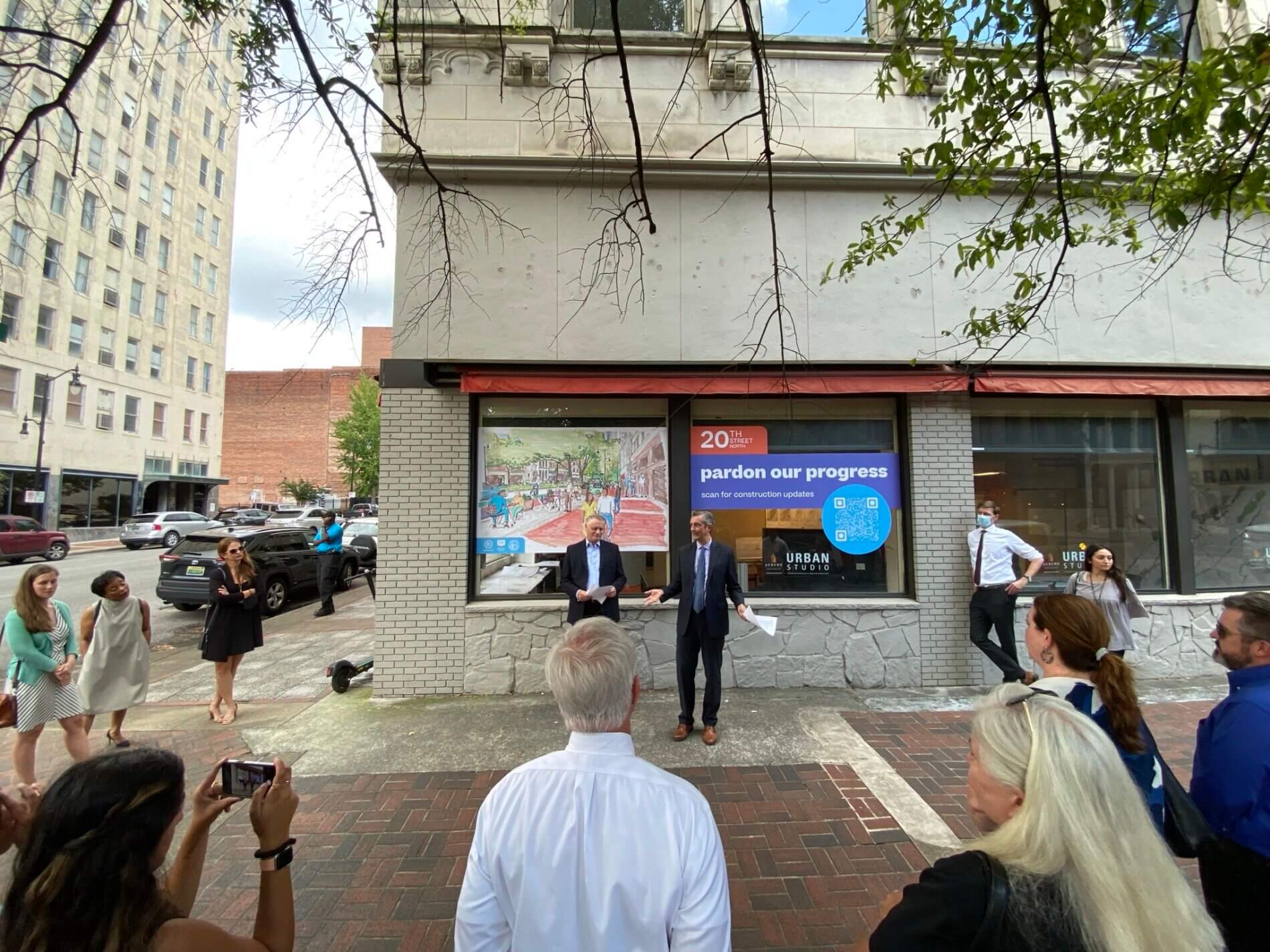 REV Birmingham – in partnership with Downtown BHM property owners, the City of Birmingham, and private funders – is undertaking a bold refresh of Birmingham Green, downtown's signature street. The community has been asking for this makeover for decades and planning it since 2018. Construction began in the Fall of 2021 and will be complete just in time for Birmingham to welcome international visitors for The World Games 2022! The finished streetscape will include native landscaping, cafe-style outdoor seating, sidewalk and crosswalk improvements, public art, and an expansion of the bike and flex lanes. The improved usability and appearance will help draw more customers to existing businesses and attract new businesses to vacant spaces along and near 20th Street.
Sponsors
PNC Bank
Hugh Kaul Foundation
Robert R. Meyer Foundation
Cawaco RC&D
Design informed by pro bono services
Dix Hite + Partners
Golightly Landscape Architecture
Goodwin Mills Cawood
Macknally Land Design
Renta Urban Land Design
Studio A Design
Upswing Becomes a Pocket Park
Have you seen the colorful swings (and other more stationary seating) at 3rd Avenue North and 19th Street? With support from Downtown BHM property owners, REV launched Upswing in 2019 as a demonstration project to prove and improve downtown's market for retail and test the idea of moveable public furniture (which you'll see on 20th
Street soon!). These days, Upswing is an amenity for workers enjoying and returning to downtown. The parklet across from The Pizitz and McWane is a perfect spot for you to rest up, sip a latte, have an outdoor meeting—and swing!
Want to see more?
See the full 2021 Annual Report, including financials, the board of directors, and a letter from David Williams, our board chair, by clicking below!
Read More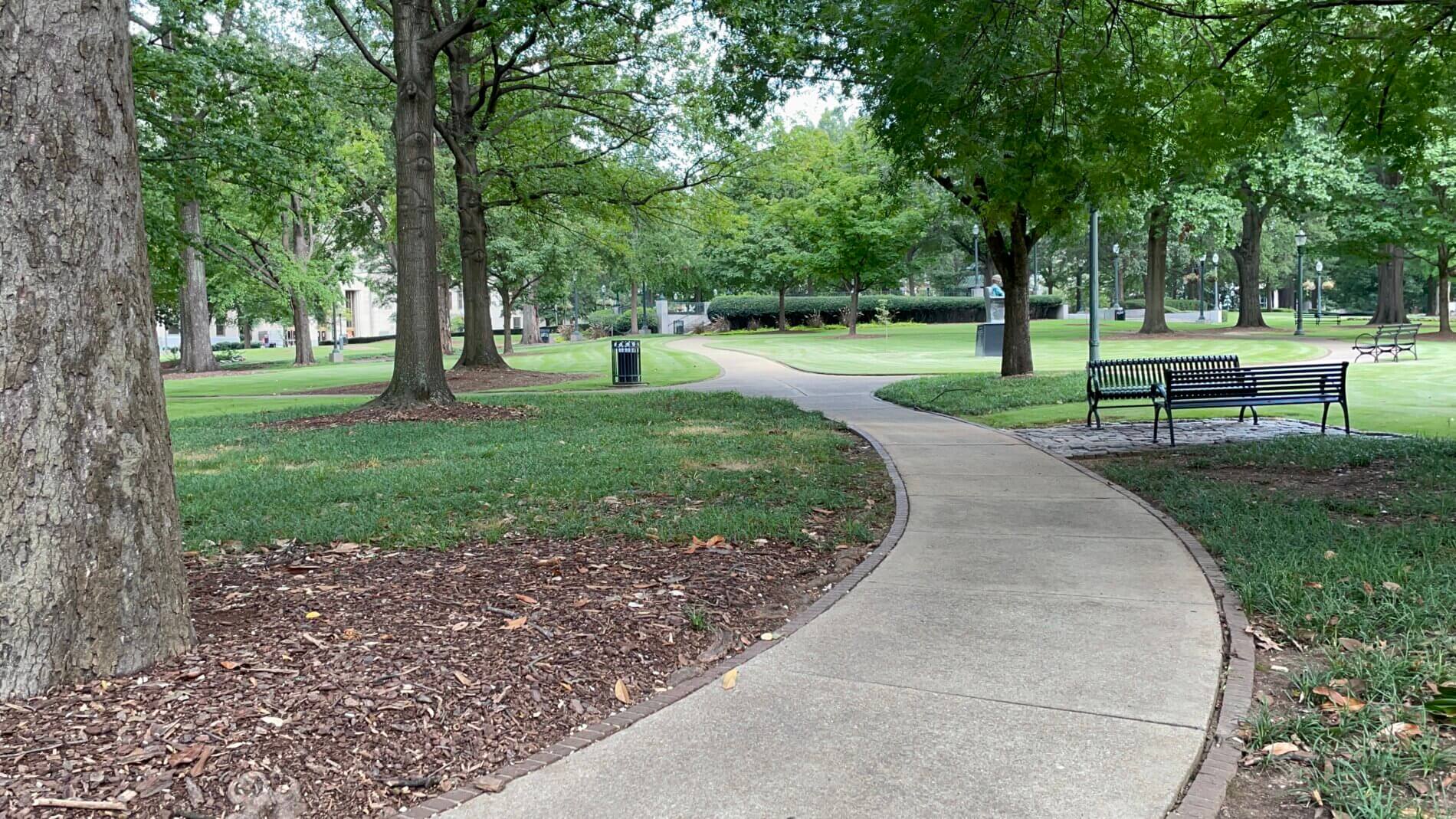 Linn Park is full of history and potential. Soon, the Re-vision Linn Park coalition will embark on a community-oriented planning project to position Linn Park as a vibrant destination that drives inclusive growth, greater public use, preservation and property reinvestment. You can expect to hear more about that soon, but first let's reflect on the park's history.  
---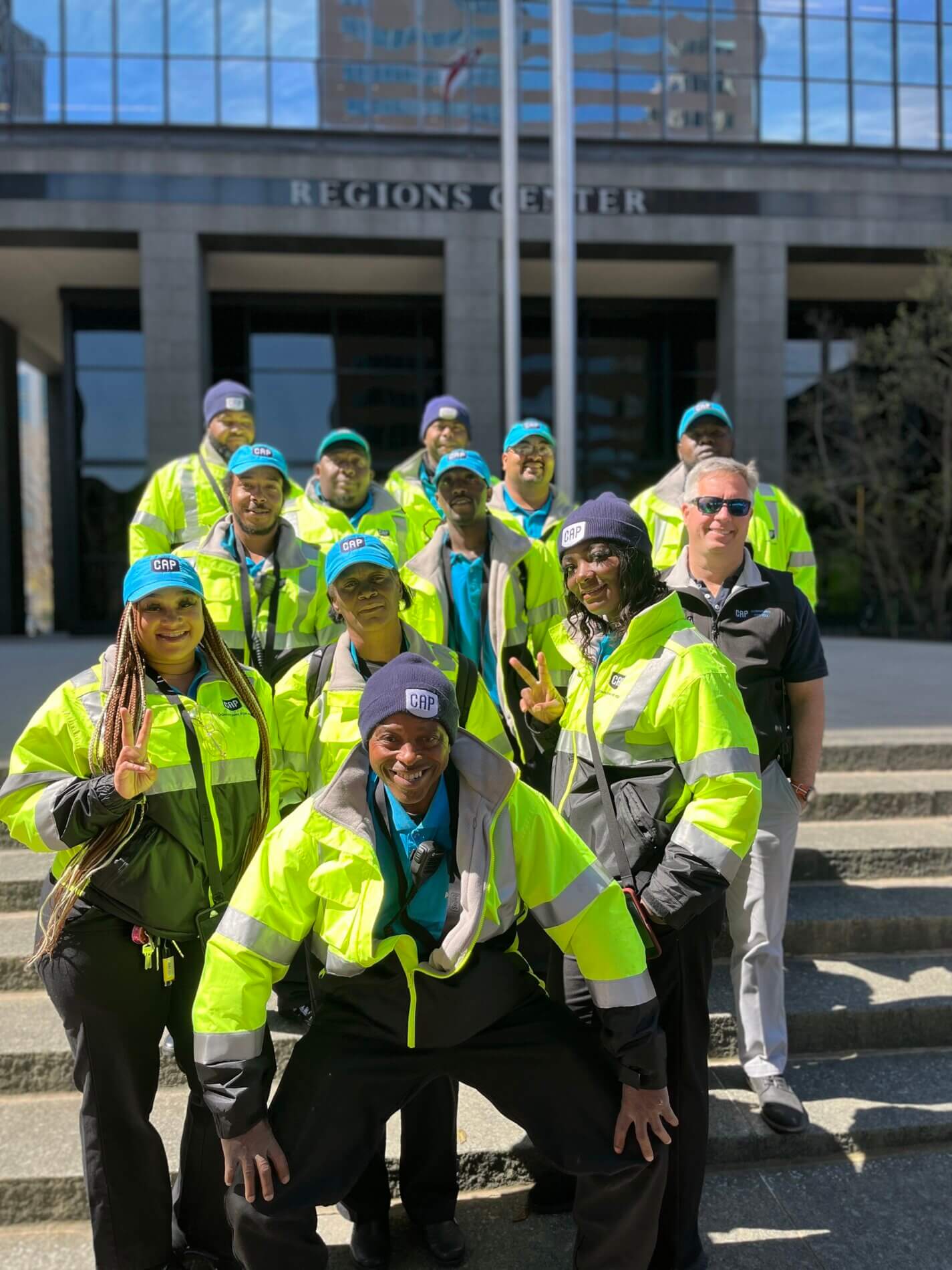 The sun is out, the flowers are blooming, and the CAP team is ready to spring into action! CAP keeps downtown safe all year round, but as the spring season approaches, they are adding a few more things to their list of duties!
---